My husband received QUITE the Fathers Day gift last year… though his was in the form of a "children's book", here is what the final product was like:
What happened next? A nice summer spent at the beach, great school year began, Christmas shopping done early and not a decoration out of place.
RIIIIIIIIGHT.
After Ben and I realized that I was expecting our third baby girl, the rest of the year hit us like the famous scene from Home Alone.
You know… "WE SLEPT IN!" followed by endless chaos.
We knew when this time came that we would need to build an addition on our house; though we did currently have three bedrooms that could possibly accommodate everyone, our house was, well, awkward. SO, Project Smith-Stead commenced!
Constructing a House
I was hesitant to share, but are some photos I took that shows our construction project along the way (and yes, we remained living here through it all!):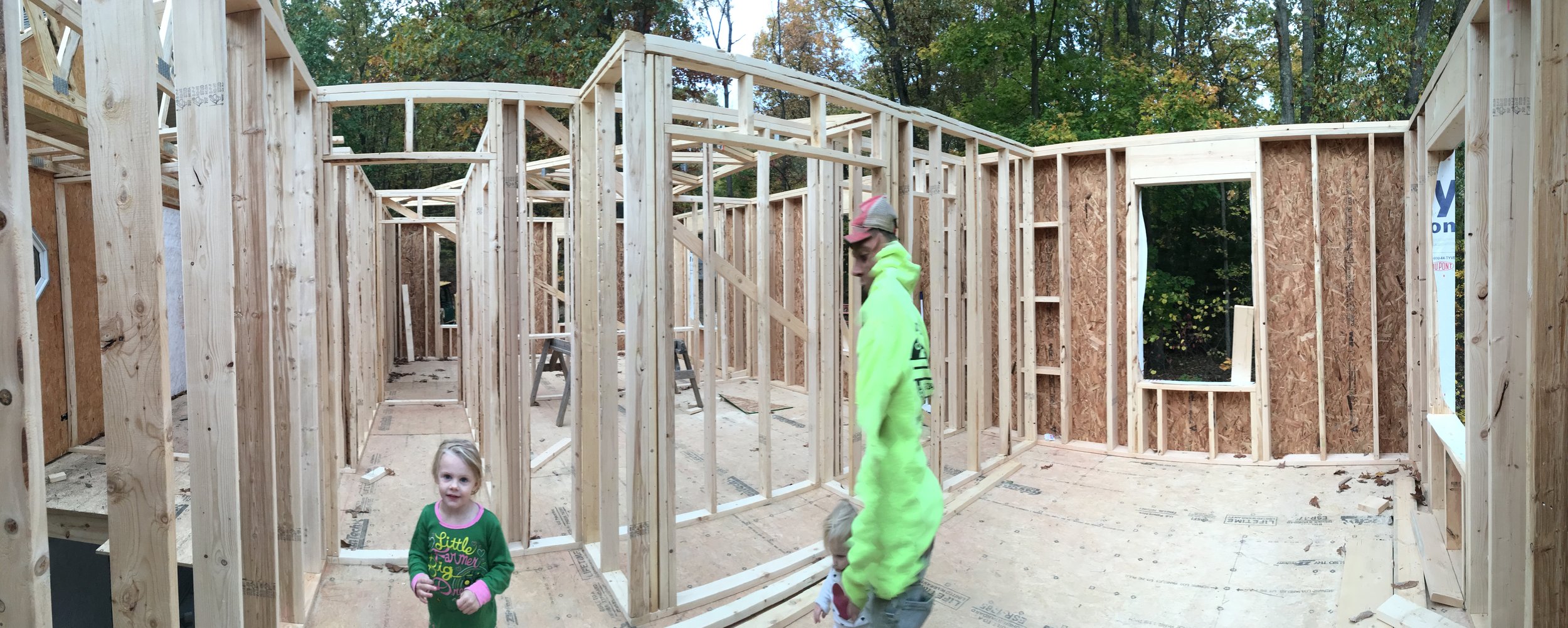 Constructing a Family
The hardest part of the addition? Keeping our lives and love as a family going. Being very pregnant (I refer to the third trimester as "very pregnant") I had to let a lot of the building, painting, and even the smallest projects out of my hands. I got to a point where I just felt like a terrible person; yelling at my girls to keep their shoes on and not touch paint, slacking even more on laundry, and failing at attempts to bring a smile to my stressed out husbands face was taken very, very, personally. At the same time I was trying to manage working full time, running Christmas orders through without internet access at home, preparing for the holidays, and entertaining the girls. I felt bad complaining of burn out, because I knew that other people have it worse. I hope that I faked it well.
This Christmas my gifts were not as thoughtful as they usually are. There was one decoration, at the end of our driveway, that my father-in-law put out for our girls. Our Christmas tree was purchased roadside Christmas Eve and simply lit with a few strands of lights. We did not make a decent meal in weeks (months?) and yes, the dishes that we did use were being washed in the first floor bathtub. It took me until the roof was back over our heads to realize that this too shall pass.
Home is where the Heart Is
Our home is far from complete, as it will continue to grow by human feet (eeek!) and square feet through the spring time, and Im more than thrilled with that! Our addition is livable on the inside, the girls are moved into their rooms and we have had endless help ensuring that everyone is comfortable and ready for new baby girl Smith. The title of my post may sound cliché, but I never realized how true it was. My heart is with my husband and my girls. Though I may take their stress to heart, that is also where I keep their love. And that is where home will always be.
Hopefully my next post will feature the newest Smith Family addition and us as a family of five! <3